Notice - this product is no longer available.
Advanced Ball-Handling/Dribbling DVD
PayPal Verified and Trusted Since 2001
---
...featuring Ryan Goodson and Corey Rich ... just $25.99!
Special Deal!
See the Players Combo Pack below

---
| | |
| --- | --- |
| (1) Advanced Ball-Handling DVD -- $25.99 | |
---
Players... take your ball-handling and dribbling skills to the next level! Ball-handling - dribbling experts Ryan Goodson and Corey Rich take you through 50 advanced ball-handling and one and two-ball dribbling drills, both stationary and on the move drills, some full-court. If you have two basketballs and a place to dribble, you can do these drills at home, on your own.

Meet the Experts...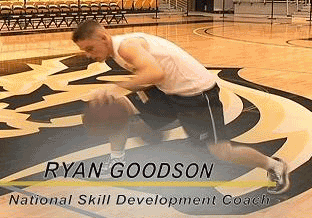 Ryan Goodson...
Ryan owns and runs Ryan Goodson Basketball Academy, training middle-school, high-school and college players. He travels around North Carolina and Tennessee putting on camps and clinics. He is a student assistant to the men's basketball program at Appalachian State University. Ryan is certified as a Ganon Baker skill development trainer. He has played at the high school and college levels.


Corey Rich...
Corey has played professionally, including with the Harlem Globetrotters, and is considered one of the best ball-handling and dribbling gurus in the world. He owns CoreyRichBasketball and is an instructor, putting on camps and clinics for players of all levels. He also does speaking engagements and his ball-handling and dribbling shows are unbelievable and unforgettable.

See the YouTube video clip below!

Copyright © 2001 - 2019, James A. Gels, all rights reserved.