Basketball Drills from Ganon Baker
From the Coach's Clipboard Basketball Playbook
The drills on this page have been provided by Ganon Baker, and new drills will be added from time to time, so stay tuned! Also, see Ganon's 3-DVD series on how to become a point guard.

Ganon Baker is a high-performance, elite basketball trainer who runs basketball camps and has trained over 15,000 players each year with clients and contacts in over 15 countries and 44 states. He has worked closely with Kobe Bryant, LeBron James, Vince Carter, Amar'e Stoudemire, and Deron Williams at each of their Skill Academies and has trained multiple NBA stars such as Chris Paul, Jerryd Bayless, Kevin Durant and Amare Stoudemire to name a few.

Specializing in Individual and Team Training, Camps and Instructional DVDs, annually, Ganon Baker and the Pro Trainers of Ganon Baker Basketball, host camps and clinics throughout the world and have authored nearly 50 Instructional Basketball DVDs and counting... Coach Gels.

Also see "An Interview with GanonBaker".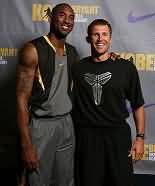 ---
Stance N Step - 4 Cone Drill
Drop hips, head on chest of offensive player, step slide toes, mirror offensive players feet.

Step slide cone to cone , then sprint slide to cone, step slide, then closeout all in a square.

You can use a smaller area as depicted in the left-hand diagram below, or a larger area (more aerobic) as seen on the right.

---
Circle Gladiator Drill
Offensive players are on the 3-point arc and all have a ball. They dribble stationary in place, with the defender in the lane. The defender (X5) closes-out on a player and then it is live 1-on-1. If the offense misses and defense gets the rebound, defense gets 1 point and the drill keeps keeps going, with the defender picking another offensive player and closing-out. If the offense scores, the offensive player now becomes the defender.


---
Also see Mavs Drill - for Post Rotation and Spacing on Guard Dribble-Penetration
---
Helpful DVDs:
Ganon Baker: Basketball IQ Development Drills
with Ganon Baker.

Price: $39.99

Buy Now
---
Copyright © 2001 - 2019, James A. Gels, all rights reserved.